Wines of the 2010 vintage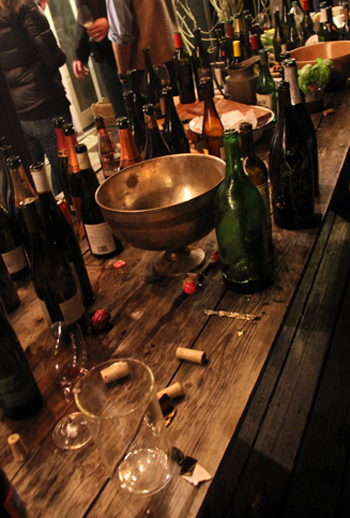 The spirit of the interns fueled our harvest. Johanna was our spine of constant strength; Graeme a slow-moving arrow of thought, a lake of calm. We got a tremendous amount of work done, aided day after day by many friends and visitors. We made better wines than we ever did before, and had more fun, measured both in amplitude and extension.
This is the best Hudson Syrah that we had ever made. Good, even very good for its intensity and balance, certainly, but best for its animal strangeness.
A classic zinfandel, evocative of the California winemaking of a couple of generations ago. High altitude, fine drainage, old vines, moderate ripeness—a very traditional recipe.
From the same hillside as Chuy Cab on the west slopes of Spring Mountain, old vines produce tiny intense clusters. Un-topped in barrel for more than two years, the wine is powerful but not fierce; controlled and sophisticated.
Mostly Petite Sirah from Tenbrink with some Hudson Syrah and a little Cinsault. The wine has some of the tarry, smokiness of the Bricco wines, and the Serrano ham character of Androkteinos. It is not as fierce or extracted as either of those wines, but one could never call it light. Charming and ready with the strength of a draught horse.
Perhaps the second-to-last vintage of 50-year-old Sauvignon Blanc. This wine is strange in a way typical of the vineyard: it has the extinguished campfire character of some tequila. There is powerful fruit and blossoms, typical of SB, but the wine is utterly dominated by minerals and smoke now.
Our first reserve Syrah from the Hudson Widowmaker Block. The wine is glorious. It echoes Androkteinos— the Homeric Slayer of Men— and pushes its pointing to a realm of doom even further.
2010 LA SEVERITà DI BRUTO FARINA VINEYARD
From a rocky hillside on Sonoma Mountain, this is one of our most conventionally made wines. Yet the wine is extreme, and in some ways, unrecognizable—at least as California Sauvignon Blanc.
Aggressive, partially skin-fermented Verdelho from a rocky hillside east of Lodi.
Seven components from six vineyards, a more fresh and refreshing version of our white blend. The wine is rich but snappy with acid; gravelly with minerality, and slightly tannic and nutty from skins and seeds. This wine will age well for a few years.
Merlot from an amazing hillside vineyard in Martinez. The wine is rich and heady, but with no aromas of blueberry pie or any other fruit. It is a dry, tannic wine—- but that smells of pan forte, roast goose, winter holidays.
Skin-fermented Sauvignon Blanc from Sonoma Mountain. The Prince in evolution; harvested for the first time from both sections of Farina, with full-body punchdown. More intense than ever, yet also more polished.
Blanc de noirs from 140-year-old Cinsault. Sweeter and softer than the 2009. Seductive, but too welcoming. We are going to toughen it up.
Gewurztraminer grown near the Sacramento River; dry, weighty, with the power to affront.
Old-vine Carignane from the sandy soils of the San Joaquin River Delta. The wine is iron-bloody, and for all its ripeness, nearly severe. It is a wine of structure and reticence, not fruit and richness.
2010 was a scarce year for John Guman's chardonnay vineyard in Napa, but the wine soared to new heights.
Verdelho from the Sacramento River Delta, a more powerful and intense version of Naucratis; partially barrel-fermented. Chablis-like, hard.
You may order these wines here.