2010 The Prince in his Caves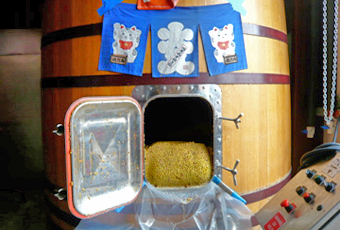 In 2010, we made two natural, evolutionary innovations in the Prince. Change may sound like heresy in this simple wine, but each innovation has only brought the wine closer to where it has always been headed.
You are witnessing the Teleology of the Prince. For the first time, we harvested from the more concentrated upper sections of the vineyard; and to exalt this fruit even further, we fermented all of it in small puncheons, with foot-treading and full-body punchdowns, rather than with pumpovers in a large wooden tank. We used that, our traditional method, for the second harvest, from the richer lower section. We then aged the two harvests separately; each in neutral 60 gallon oak barrels, and will combine the two lots only before bottling. The wine has more intensity than ever, but with less fierceness.
In some ways, the wine is less an inhabitant of the wilds; a polished statesman, but no less sui generis, speaking its own language.