2010 Glos
McDowell Vineyard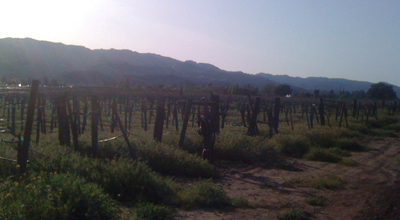 This is our second to last vintage from Glos. The McDowell family will complete the necessary and inevitable replanting of their vineyard after the 2011 harvest.
In 2010, we pruned, shoot-, leaf-, and cluster-thinned the vineyard completely on our own. It was a great pleasure, and a source of some delight and a little pride when we saw how well the vines responded. All of this success and pleasure was a little bittersweet in the face of the knowledge that for some of the vines, this would be their last harvest.
Some of our work was annulled by the two brutal heat spikes we suffered before harvest: rather than harvesting twice as much fruit as we had in the past few years, the heast spikes fried fruit and brought us back down to our normal level of production—14 cases.
The wine is among our best from this vineyard; with clear class and nobility. It is not the most intense Glos, but it is among the most beautful, and stands so high in the cellar because it represents its vineyard with superb structure and old-vine minerality.