2010 Golgotha Reserve
Hudson Vineyards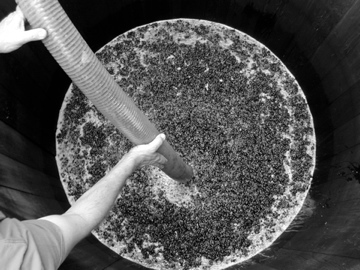 We luxuriate in experiments—and winemaking experiences that we never foresaw or intended. The 2010 Hudson Syrah seemed like our best ever; partly for its aromas of wild animals lurking in a cave. And the wine was precocious—developing so quickly that I worried about its strength, that it might be slightly fragile. So we bottled it this Spring and it is beautiful in bottle —no longer precocious; strong, stable.
And after bottling, we discovered another barrel, one that had escaped my intention to bottle quickly and protect the wine. So we let this one go—to see where the wine might have gone had we not bottled it. No sulfur, no topping. And the wine is glorious; its grandeur a rebuke to my caution.
It is named "Golgotha" for the Hill of Skulls outside the walls of Jerusalem. It echoes "Androkteinos"—the Homeric Slayer of Men—and pushes its pointing to a realm of doom even further. This will be the only release of this wine. The next mistake will merit a different name.