Wines of the 2006 vintage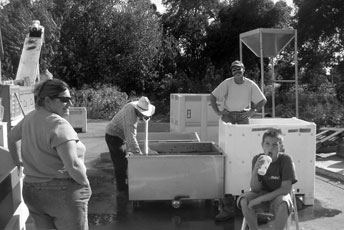 Two great changes in 2006: Jason Berthold, a chef at the French Laundry, began working with me day to day, and Sarah and I moved the whole operation from White Rock to Wooden Valley Vineyards in Suisun Valley. There, Sarah and Jason and I were joined by the Tenbrink family, as we began production of their wines, and Steve bailed me out on my inadequate staffing on tough days.
We began annual production of a wine that is absolutely central to the Project, the Prince, and finally acheived some success with the fantastic Margit's vineyard.
2006 Lost Slough Vineyard NAUCRATIS
2006 LOST SLOUGH VINEYARDS GEMELLA
2006 Farina Vineyard THE PRINCE IN HIS CAVES
2006 Farina Vineyard LA SEVERITÀ DI BRUTO
2006 Farina Vineyard DULCISSIMA CAMILLA
2006 ROCKY HILL VINEYARDS SAN FLORIANO DEL COLLIO
2006 ELSA's VINEYARD SCHOOL OF THE PLAINS
2006 TENBRINK VINEYARDS GARDENS OF BABYLON
2006 TENBRINK VINEYARDS BRICCO BABELICO
2006 MARGIT's VINEYARD MARGIT's MASTER BLEND