2006 Naucratis
Lost Slough Vineyard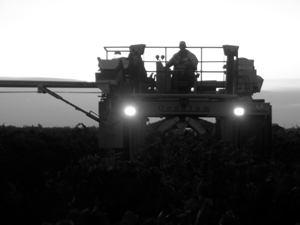 Wit the help of our friends the Lanzas at WVW, we experimented with mechanical harvesting for the first time. We picked the grapes into stainless steel bins provided by the Lanzas, sulfured the grapes immediately, while still in the field, and shipped them back—also on a truck loaned by WVW and driven by Rick Lanza. The vineyard crew at Lost Slough, led by Chuck Harrison, went in the day of our night pick and dropped any crop that he figured we would not want; they also leafed. This emphasizes that the point of the mechanical pick was not to save anybody time or money—it was another experiment, this time that depended on the patience of Chuck and generosity of the Lanzas.
The experiment was successful: the combination of very clean pick, cold middle of the night temperatures, and a few hours maceration in stainless steel, helped us to make our most fragrant and intense Naucratis until 2008.
About 300 cases produced.