2006 Margit's Master Blend
Margit's vineyard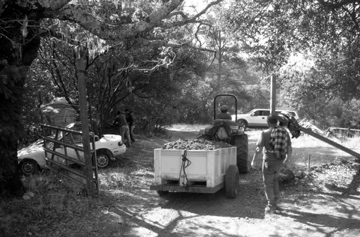 We only succeeded in making one vintage of successful wine from this amazing vineyard. I tell the full story in conncetion with the A1 wine that we also made from it in 2006.
The vineyard was planted in the 1970s and dry-farmed for its whole life. After this difficult harvest, all of the remaining old vines were pulled out. We made about 5 barrels of wine in 2006, about 4 of them went into the blend for this wine. This represents the majority of the vineyard, every sections but the highest and driest.
Each barrel represented a separate puncheon fermentation; they were aged for nearly two years and only topped and sulfured during their last summer before bottling. The wine is dense, fierce, almost fiery.
About 80 cases produced.