2006 La Severità di Bruto
Farina Vineyard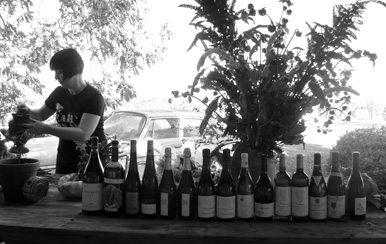 The Farina vineyard lies in a sloping saddle on the east side of Sonoma Mountain, near the top. The upper edge of the vineyard is a granitic rockpile; it reminds me of the great grenache vineyards of Priorat it because it is so forbidding. It is the last place you would expect to find Sauvignon Blanc, a white grape rather disrespected in Northern California. The clone planted here is an old California selection; it is small-berried and muscaty, like the Wente chardonnay selection. The impossibly poor soil restricts the vines rigorously; the excellent drainage keeps the berries and clusters tiny and makes the skins thick. In some senses, it is the single most promising vineyard I work with. Its excellence imposes a strong obligation on the winemaker.
The fruit was crushed to press, and the juice collected under gas with a high initial sulfur addition to preserve its freshness and startling acidity (the juice had an initial pH of 3.02), settled severely to banish any heaviness (the darker juice resulted in the rich but less noble Dulcissima Camilla) and then fermented in 100% old french oak. Malolactic fermentation was inhibited. Purity was the aim.
The resulting wine is pure and strong. It is less severe than the 2005, but more rich, more open. It required nearly 9 months for its fermentation; that nine months of slow activity opened up the structure of the wine. It is still large in frame, highly mineral, with a precise definition from the wine's high acidity, but it is less forbidding than its predecessor. The wine is fresh (its long fermentation kept it so during its elevage) and fragrant– stone fruits and their blossoms, wet rocks, chervil.
About 125 cases produced.