2006 Bricco Babelico
Tenbrink vineyards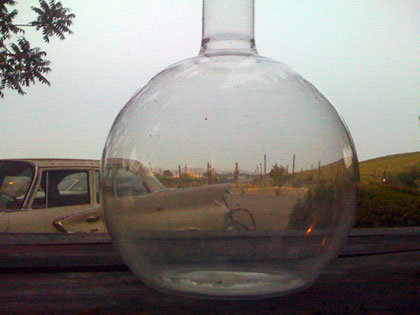 In September of 2008, when Graeme and I were composing the 2006 Gardens of Babylon blend, we thought that there were four barrels of presumptive 2006 Babylon that were much better than the others—just a consequence of the elevage of these wines (no topping, no racking, no sulfur). We decided to experiment with them—reserve them from the blend and allow them to age further, undisturbed. If they turned out really well, we would have a 2006 "Babylon Reserve"—if not, they would just go into the 2007 Gardens…We anticipated a rich, powerful, complex wine; with all of the usual power of the Babylon wines.
We tasted the wine on July 13, for the first time since September 2008. The wine is superb, but it has developed in a way that we never had anticipated. It has turned into an old-school Barolo. It is no longer a suffused deep purple in color (nor is it Barolo faded rose either; let's be reasonable). Its aroma is distinctly old-world: shoe leather, goudron, dried herbs, dried rose petals. It is still powerful in the mouth, but very attenuated compared to its youthful siblings. It is long and smooth and liquorous; in the end, it really only differs from very good Nebbiolo in the quantity and scale of its tannins. They are soft now, and well knit, but the wine is still fueled by their massive power.
The wine is a source of wonder, pride, and pleasure for us.
The name comes from the beautiful Piedmontese dialect word "bricco"—the prized pitch of a hillside, the top of a slope, especially that inclines into the sun. "Babelico" means "babylonian," but even better—it means "babelized"—from the tower of Babel. This wine is babelized, and the bricco that it comes from is as flat as a stove-top.
89 cases bottled