2006 Gardens of Babylon
Tenbrink Vineyards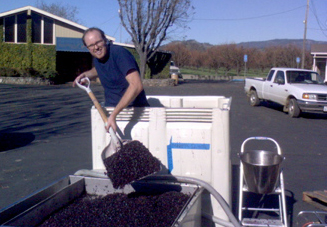 This is the beginning of a new wine for us. It began in disappointment, but has resulted in great promise.
The Tenbrink's Babylon vineyard can produce about a thousand cases of wine per year. The price that we request for the Babylon wine itself is only appropriate for a wine that achieves excellence in every vintage, emerges in small quantities, exceeds all expectations, and makes regret impossible. It is difficult to do that every year, in every section of the vineyard. In 2006, we felt that even from mid-fermentation we were not going to hit those heights with this vintage. It took me two more years to decide what to do. In late summer 2008, I decided to de-classify all but 3 barrels of the 2006 vintage. (We are preserving those 3 barrels and might release a 2006 babylon reserve after 3+ years in barrel.) "Gardens" is the name that I chose for this declassified wine. It is nearly all Tenbrink Petite Sirah, but also includes about 40 gallons of a Suisun Valley Cabernet, and 20 gallons of each of Margit's Cabernet, Hudson Syrah, and skin-fermented Pinot Grigio from Rocky HIll.
In the future, we will continue to produce Gardens on purpose, to ensure, through row and barrel selection, that we make the best use of the vineyard and also keep the original Babylon superb and without superior.
600 cases produced.