2006 San Floriano del Collio
Rocky Hill Vineyards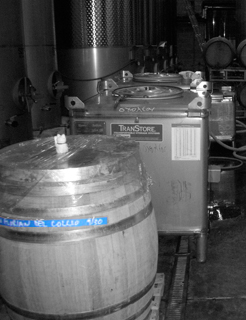 This wine grew directly from the education that George Vare provided me by introducing me to Collio wines and winemakers, and from a wine that Brigit Favia and I had on one of the trips we made to meet these winemakers. We were in Trieste, at a restaurant recommended by friends, and had ordered a 10 year-old Edi Kante Pinot Grigio. The owner was shocked that it was still on the list and refused to serve it to us—even in the land of orange wines. We insisted; he said we could not pay for it, we agreed. And it was superb. A very pale coppery color, reminiscent of older rose champagne or very light pinot noir, 20 years-old or more. The wine was beautiful and delicate, with strong tannins that had matured, rounded out, knit together. The wine tasted like pinot noir too, but like a mature, tannic and large-scale wine. A revelation. I had heard of skin-fermented PG, and even tried to make some at Luna and with George, but I had never had one that was mature.
When the fruit came in from Rocky Hill in 2006, it seemed fat and not sufficiently intense. This was the perfect fruit to try a full skin fermentation on: we crushed and de-stemmed it to a new oak puncheon, bled 30% to remedy the fatness, did a cold soak for a week, then began 3 times per day full body punchdowns. a thirty-day fermentation; no maceration—the wine seemed plenty tannic. We made hardly any wine at all—about 60 gallons. We oringally put it down to two 30 gallon barrels, intending to learn even more by bottling some nearly immediately and allowing the remainder to age as long as possible. We had one new oak baby barrel and only one neutral one. The new oak overwhelmed the wine, so within a few weeks, we moved all of the wine back to a 60 gallon barrel. The wine was already salmon-colored on the edges and was oxidizing quickly. We sulfured the wine and gassed the barrel with nitrogen to expel oxygen. We kept the barrel gassed at moderate intervals and allowed the wine to mature for a year before bottling.
[note added in 2010: we bottled 30 gallons of the wine in december 2007 and put the remainder (about 25 gallons) in a 30 gallon neutral barrel. From that point on, we referred to the wine as 2006 SFDC riserverva; which will be bottled in 2010.]
The name comes from the town in Collio that is home to the great makers of skin-fermented whites: Radikon, Gravner, La Castellada. In Italian, it is SAN FLORIANO DEL COLLIO; in the Slovenian spoken by most of the natives, it is STEVERJAN.
About 17 cases produced.