2006 The School of the Plains
Elsa's Vineyard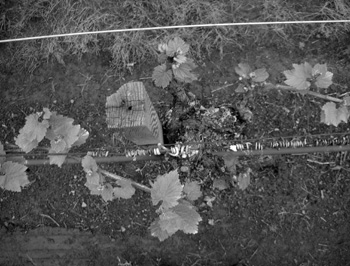 This wine is large and dense. Its 12-month fermentation has some responsibility for this, but much more is the role of the vineyard itself. The wine is from a very special cool-climate Pinot Grigio vineyard, tended like a garden by its owner and full-time vineyard manager. Each vine is like a child to them; each cluster not only ripens at the their hands but gets something like an education. The result is an astonishing density of flavor and the ability to preserve excellent structure even at intense ripeness. The grapes were whole-cluster pressed, but the wine seems to show some tannic richness nonetheless, a quinine salinity sometimes found in serious cool-climate grigio and pinot gris, and a beautiful floral nose, full of lilac, wisteria, lavender. It is not a strange wine; strong but beautiful.
The name comes from an observation of mine about winemaking in the Collio, source of great inspiration and teaching for me. There is a school of the plains that favors minerality, florality, and bright acidity and despises skin contact, oxidation, and excesses of malolactic fermentation. And then opposed to them are the growers who live and work in the hills, especially around San Floriano del Collio. They harvest very ripe, macerate the juice with the skins and seeds, expose the juice and wine to all kinds of oxygen, and tend not to interfere with any aspect of the fermentations, including the malo-lactic. This wine in no way resembles the wines from the plains, but is named in homage to them. The School of the Plains would reject this wine, but it still embodies what I learned there.
Made from George and Elsa Vare's superb Pinot Grigio vineyard that for many years supplied some of the best lots white grapes to Luna, and then formed the foundation of George's Vare label. The PG exists no longer.
About 40 cases produced.