Wines of the 2009 vintage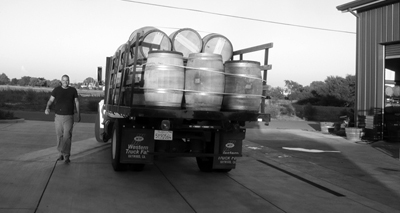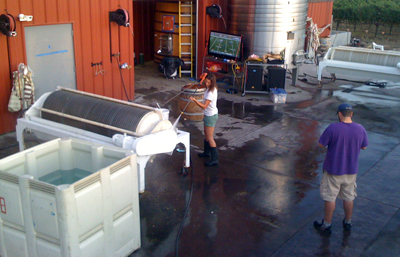 The spirit of the interns fueled our harvest. Johanna was our spine of constant strength; Graeme a slow-moving arrow of thought, a lake of calm. We got a tremendous amount of work done, aided day after day by many friends and visitors. We made better wines than we ever did before, and had more fun, measured both in amplitude and extension.
An especially seductive whole-cluster Syrah. Beautifully ripe and high-acid at once; with powerful funk, but no dirt or rot. Blood and iron, hung game, Jamón iberico. Exactly what we aimed for from the days before harvest.
One hundred percent Petite Sirah from Suisun Valley, a perfect representative of our deepest reds; they live close to the earth, and not in the realm of fruit and flowers. The wine is rich and ripe; its tannins roar like the engine of a dragster.
Petite Sirah from Suisun Valley of richness and concentration reminiscent of Amarone or Sfursat: Not the jammy richness of Northern California, but instead a tarry, porcini, and leather character that points to another world.
Cabernet Sauvignon from a 40-year-old dry-farmed vineyard on the west side of Spring Mountain. The wine is very noble and old school; a Roman Senator representing another place and time.
A field blend of Syrah and Grenache from Ann Kraemer's Shake Ridge Ranch, harvested together and co-fermented. Delicate and sophisticated; much more like Pignan than like any of the Scholium red monsters.
From 200 surviving vines of a 50-year-old vineyard in Rutherford. Fresh and serious at once; never much like California Sauvignon Blanc; luxurious in its power and intensity; not severe or challenging. Somehow familiar.
Direct and mind-piercing whole-cluster-pressed Sauvignon Blanc from the rocky, upper section of Farina Vineyard on Sonoma Mountain.
Aggressive, partially skin-fermented Verdelho from a rocky hillside east of Lodi.
Chardonnay from a rockpile in Sonoma Valley farmed by our friend and colleague Steve Matthiasson. This wine is one of our proudest creations, at once noble and showy; more Chablis than Montrachet
A blended white wine of five components from four vineyards, all barrel-fermented and -aged. This is built like a very powerful Grüner Veltliner; it is all minerals, thunder and baking spices—but not like a Chardonnay.
Verdelho, from the cool Sacramento River Delta. The wine is clean, direct, intense. As always, it is reminiscent of ripe, but not super-powerful, Grüner.
Savage skin-fermented Sauvignon Blanc from the fragrant, less severe portion of Sonoma Mountain's Farina Vineyard.
Whole-cluster-pressed Malvasia Nera; own-rooted vines planted in the 1860s in Lodi. Fragrant white wine from red grapes.
There is something in the nature of the Gewurz that trumps almost any methods. Strong but charming Gewürztraminer in 500 ml.
A glorious Chardonnay from John Guman's old vines; our best Sylphs since 2002.
You may order these wines here.