2009 Rhododactylos
Phillips Farms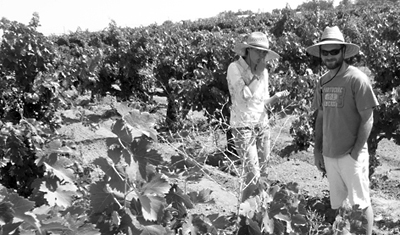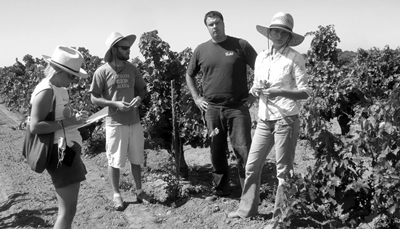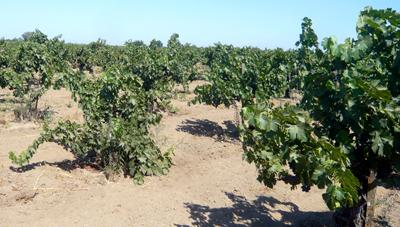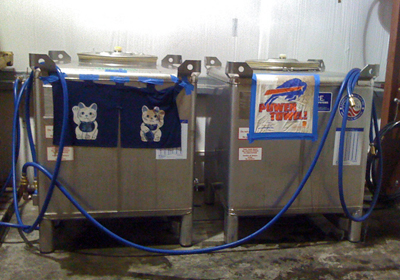 We made a tiny amount of this wine in 2008 and gave it away. We made it by accident, so it only seemed fair.
We bought fruit from this remarkable vineyard, owned and farmed by the Phillips family of Lodi, in 2008, at the instigation of our friend Tegan, and intended to make a deep, red wine from its Cinsault. Cinsault, Tegan tells us, is also known as Black Malvasia in the United States, and Malvasia Nera in Italy. Somehow, this meant nothing to me. I focused on one thing: own-rooted vines, more than 150 years old, dry-farmed their whole lives. So when the fruit came in, we looked at the odd, large, ovoid grapes—much more like table grapes than wine grapes—hmm, like very fragrant muscaty table grapes— and bled the shit out of them. About 50%. We stomped down the rest and made a very dark, fragrant, absolutely un-tannic red wine that we blended into the 2007 Gardens of Babylon. Not what I had been (blindly) hoping for.
What did we do with the bleed, nearly 60 gallons? We fermented it in an old white wine barrel and produced, a complete surprise to us, a very beautiful , floral, white wine, tinged with a kind of peach or polished copper. The vineyard ripens extraordinarily early—I don't mean in mid-summer; I mean that the fruit is ripe at 12.5% alcohol. This was the lightest wine that we ever made, with very good acidity and a slightly salty minerality to balance the lovely alpine flowers of Malvasia.
Because this wine utterly seduced us—and was really one of our best wines of 2008—we determined to make it on purpose in 2009. We purchased several tons of the precious old-vine fruit, and whole cluster pressed it with the greatest of gentle care; fermented it very cold in a stainless steel tank, and have protected it from oxygen from the beginning. The wine was quite pink for a while, a legitmate rose. But as it has matured and become more serious, it has shed almost all its color. It is now a rose only in genesis; the wine is pale and clear, with only something like the effect of a lighting gel, not even a stain … Essentially, a fresh white wine, made from very dark, black grapes.
Is it worth mentioning where the name comes from? It is a particullarly beautiful Homeric epithet, the epithet of Dawn, the Titan sister of the sun. One surmises the origin of the epithet has something to do with the gradual spread of rosy light as dawn is about to break and the sun still illuminates the reflective sky from beneath the horizon. This wine is no longer pink, but why not name it for its rosy origin?
84 cases bottled