2009 Michael Faraday
Matthiasson Family Vineyard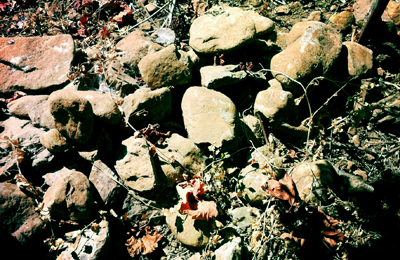 This is one of our proudest creations. I cannot avoid the phrase, though almost every word is wrong. We hardly created this wine—it is one of the wines in which we have had the least influence and have followed the most conventional paths. The fruit is from the vineyard planted and farmed by our dear friend and colleague Steve Matthiasson, whom we are obliged to mention at least once each day during harvest—because he is such a fountain of inquiry and explanation.
The vineyard is a rockpile off Carriger Lane in what seems to be the western flats of Sonoma Valley, but, in truth, it is a high mountain, hillside vineyard, transplanted whole to a flat table close to sea level. It is a geographical illusion. We whole-cluster-pressed the fruit, fermented the juice in two-year-old oak barrels, and left the wine alone, without topping, racking, or sulfur until the spring of its second year.
Since it finished fermenting in the fall of 2009, it has been at once the most noble and showy wine in the winery; the sample sure to convert a skeptical guest or drive wild an already enthusiastic one. To me, the parallels are much more to Chablis than to Meursault or Montrachet, though you could never call the wine steely. It is disciplined itself and inspires not just respect but discipline in others, at the same time that it demands celebration and fraternity.
104 cases produced