2009 Glos
McDowell Vineyards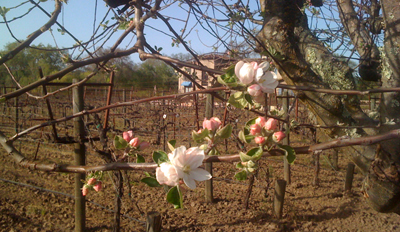 We made brilliant innovations to our farming of our old-vine Napa vineyards in 2009. We woke up and decided to shoot thin and leaf them. Guman is usually so far from vigorous that the point of thinning there is to remove weak shoots that are only sapping the whole plant, and diminishing its ability to ripen healthy fruit. But the tree-like old Sauvignon Blanc vines of Glos push a proliferation of shoots that fight with each other for sun and air. And worse, the interplanted Merlot shades the ripening SB. All this congestion and obscurity encourages rot in the fruit and keeps some of it from ripening promptly. Our thinning in Glos had wonderful results: we harvested a third again more fruit in 2009 than we had in any previous year.
And the resulting wine is superb. It is fresh and serious at once. Glos is never much like California Sauvignon Blanc; nor iis it even much like its cousin in the cellar, LSB. It is luxurious in its power and intensity; not severe or challenging. Somehow familiar.
This vintage has the length, depth and complexity of 2004 and 2005, and the sunny freshness of 2008. It is beautiful now, and will age.
And lest it seem that we are getting too excited about a little bit of white wine, we mention this: the 2009 is the penultimate wine from these vines, planted 50 years ago by Albert Mcdowell. The whole vineyard will be replanted after harvest 2010. The wines that we are making now will be its memorial.
19 cases bottled