Wines of the 2011 vintage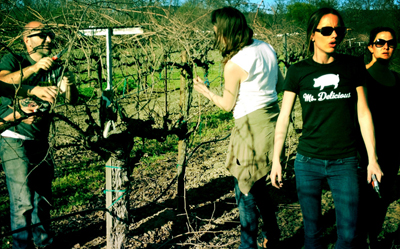 2011 might prove to be our best year ever. Terror gives way to wonder and thanksgiving. The terrors that my friends and colleagues in Long Island experience nearly every year came to us in Northern California in 2011. Their arrival was not welcome, but for witnesses, spectators—not players—there can still be something good, instructive, fascinating. The ancient Greeks called this kind of experience δεινος—terrible, but amazing too. Something you cannot take your eyes off, the experience of which cannot leave you unchanged. Harvest in 2011 was wonderful, a joyous culmination, as it always is. But it also revealed the possibility of terror, catastrophe.
A more delicate Syrah than other years, less meaty. But it is beautifully perfumed, well-balanced and restrained in the mouth.
The vintage is light, delicate, graceful. This is never a muscular Cabernet. Even in full ripeness, it hearkens back to another time in Northern California.
The blend this year includes Petite Sirah, Cabernet, Syrah and Cinsault. It is dark and powerful, completely ripe, but very different from any other vintage of this wine. The cool of the vintage shows in the high acidity of the wine.
From old Sauvignon Blanc vines in Napa Valley, a beautiful wine—noble and complex. Clean and sweetly perfumed.
Our first red wine from the 140-year-old Cinsault vines of Bechtold. Perfectly balanced, ballerina-light on its feet, with excellent length and complexity. The florality ofRhododactylos but also dried herbs and brown spices.
Skin-fermented Sauvignon Blanc with partial stem inclusion. A deep, smoky wine with tannins that are rich and structured, civil and well-organized. A triumph in a difficult year.
Whole-cluster-pressed Cinsault. High acid, beautiful Blanc de Noir—much more a white wine this year, than a rosé, just as it was in 2009.
A Sylphian triumph: flor-affected Chardonnay from John Guman's small vineyard in Napa. Deeply nutty, rich, precise.