2011 Glos
The Penultimate Year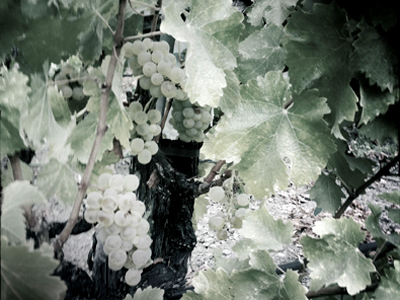 This was a very important year for us at Glos—for many reasons, but preeminently this: the remaining 40 vines in the vineyard were given a reprieve for a year by the McDowell family. They are in the midst of a necessary replanting of the vineyard, and we have somehow prevailed up on them to leave the last vines in the ground for one more year. It is also true that we pruned the vineyard in the winter of 2011, and shoot thinned, and even harvested all of the fruit ourselves this vintage. It was the first time ever that we had performed all three crucial vineyard activities ourselves.
Lastly, it was our most voluminous harvest since our first, in 2004—when we made 18 cases.
The wine is beautiful this year—more noble and complex than in 2009 and 2010; somewhat closer to the Selossian peripheries that we hit in 2004 and 2005. The wine is also cleaner and more sweetly perfumed than the somewhat strange wines of 2006, 2007, and 2010. This makes us very glad—it is such a responsibity to harvest this fruit and transform it as well as possible. All the more so given that this will be these venerable vines' last year.
15 cases produced