2008 Sandlands
Rich Pato Vineyards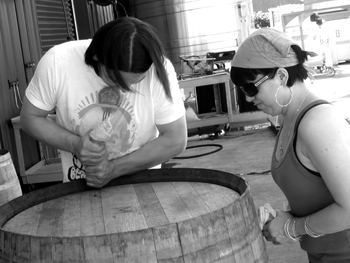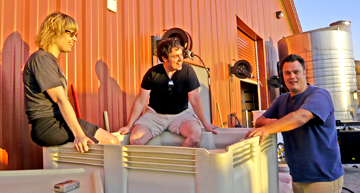 This is a reprise of a wine that we made in 2004. After harvest, that vineyard was turned into doomed subdivisions in Contra Costa county, and we lost track of the region—in spite of its wealth of remarkable old-vine red vineyards. Tegan insisted that I retrurn and introduced me to Rich Pato, who had a little 140-year old Mataro to sell. We bought 2 tons to check out the vineyard, asked Alex Kongsgaard to supervise harvest and pick up the fruit for us. On harvest day, we received 2 tons of fruit that was so big that the berries looked like golf balls.
We despaired for quality.
We were so wrong.
We fermented about 3/4 of the fruit whole cluster, in bins since we were out of puncheons at the moment; and the remainder we crushed and bled severely. We have kept the two fermentations separate for aging. The whole cluster wine is superb—intense, complex, animal. The crushed and bled wine is actually less intense, smoother, simpler, with a very fruity character. We will bottle only the whole cluster wine as Sandlands.
Through our own lack of ambition, we have lost the Pato vineyard for 2009, but we hope to regain it in the future, or perhaps find another source of old-vine Mataro as stunning as this one.
This wine is not yet bottled.