2007 Gardens of Babylon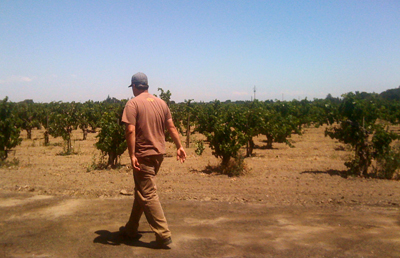 This is our second vintage of this wine. It is based on the 2007 Babylon and shares its extraordinary richness and power. But it differs from it in being a very successful combination of FOUR wines; each with its own merits, but none as strong as the final blend. As rewarding as this path of blending can be, it is one that we do not choose to follow first-- since our main aim is to present single-vineyard wines. With each of the components of this wine, we will do so.
These are the components
2007 HUDSON SYRAH: one barrel of four took away from the complete awesomeness of the Androkteinos blend. So it was expelled from the plains of Troy to the more sedate Gardens of Babylon. About 25% of the blend.
2007 BABYLON: two puncheons and one 60-gallon barrel towered above the rest. Following the precedent that we initiated with the 2006, all but the these exceptions have been consigned to the Gardens. About 50% of the blend.
2008 PATO VINEYARDS FRP DS: the letters indicate that the wine was made from 100% destemmed grapes. The wine that we made from complete whole-cluster fermentations is superb and worthy of another year in barrel. This more fruity, less intense version complements the very serious Hudson and Tenbrink wines and forms about 15% of the blend.
2008 PHILLIPS FARMS 1MN: this is 100% Malvasia Nera that we bled and punched down 3-times a day for a few weeks. It was part of a misguided attempt to make a big red wine from delicate floral grapes. The rose that we made from the bleed wine was much more successful; on its own, this wine is clumsy and heavy-handed. In this blend, it sings. About 10% of the blend.
150 cases bottled