2005 Naucratis
Lost Slough Vineyard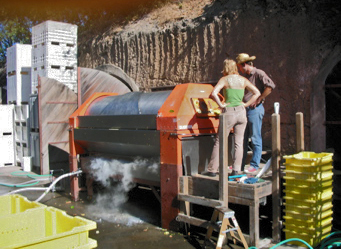 The Naucratis orginated in a true experiment: I thought that I needed to learn how to make the direct, fresh, and unoxidized wines that I enjoyed drinking so much. I chose as my model the lovely Pinot Blanc made by Robert Sinskey. I asked my friend Jeff Virnig for an tutorial in making this kind of wine, quite foreign to me. He laughed and gave me a recipe in 3 sentences.
In order to make the Naucratis, we crushed the grapes and allowed them to macerate under a blanket of carbon dioxide before pressing. We did this to maximize the extraction of flavors and aromas from the skins, while attempting to minimize oxidation and diminution of freshness. We also bled off 10% of the juice at the beginning of maceration to concentrate the wine. We macerated for about 4 hours and then pressed the grapes very gently. Since they had been crushed and macerated, they gave up lots of juice without the application of any pressure at all. We captured this free-run and kept it segregated from the eventual press juice.
We fermented this juice in a sealed and chilled stainless steel tank that I had purchased just to make this wine. We sulfured the wine thoroughly right at pressing and kept the sulfur levels up, to inhibit malolactic fermentation. As soon as the primary fermentation was finished, we racked the wine, again under CO2. We bottled it as soon as possible, without aging, in December 2005.
120 cases produced.