2010 Babylon
Tenbrink Vineyards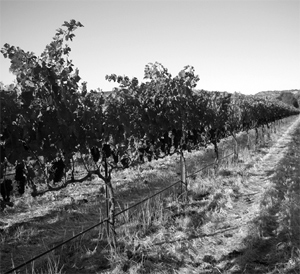 In 2006, the growing conditions at Tenbrink were not good enough to make Babylon; thus was born Gardens of Babylon, a suburban version of the imposing and barbaric wine. Graeme Macdonald and I did conceive a way to make a very fine wine from the 2006 fruit: the simple innovation was to keep the wine in barrel for 36 months, not 24 as I had done with Babylon. This wine was so good, and, even in 2006, made one of my favorite wines. This in turn allowed me to reconceive Babylon, to think more widely about the best way to make wine from this very special vineyard in Suisun Valley.
So, in 2007, I made the following decision: divide the fruit of the vineyard in three. Farm one row to a degree of near punishment. Make a tiny amount of wine. No irrigation at all, permanent cover crop. The cluster weights here are nearly one-third what they are in another section of the vineyard that is irrigated and goes to another winery. This fruit is harvested soft and dimpled, way past normal ripeness and on the way to what the Italians call "passito." Indeed, this wine is an explicit and obvious emulation of the work of Guiseppe Quintarelli in Valpolicella. This is the new Babylon; the first vintage was 2007.
The rest of the vineyard is still farmed rigorously, with nearly no irrigation and a full cover crop. The fruit is harvested fully ripe, but not more so. This goes into Bricco and the Gardens; each fermented and aged separately.
By the time that we bottled the 2009 Babylon in 2011, I still was not happy enough with the wine. it was too extreme, without sufficient complexity or subtlety to balance the power and extravagance. I knew that the fruit was not to fault—there was something that we could do in the winery. The solution came from my friend Robb Buono, who had visited Quintarelli before his death. Robb suggested that Babylon deserved the same treatment as Bricco—36 months in barrel. I hesitated for only financial reasons. But when it came time to bottle the 2010—from truly excellent growing conditions, the best since 2005—in the Fall of 2012, I could not do it. The wine was not ready. So, just as Robb had suggested, back into the cellar for another 12 months. Thus was born the best Babylon since 2005, and the most complete of the new, Quintarelli-inspired, Babylons. Ready for you after three years in barrel.
49 cs bottled