2008 Sylphs
Guman Vineyard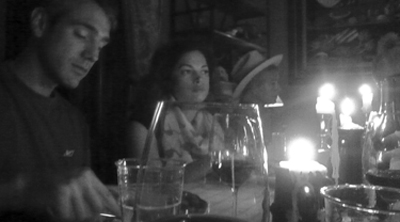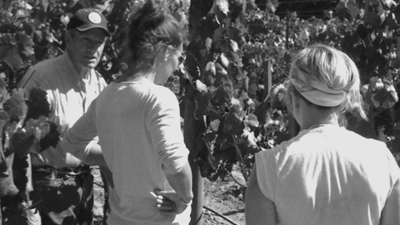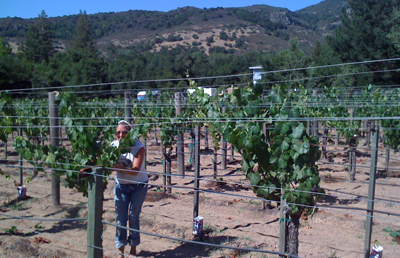 You will notice the number of cases. This is not a typo. Nor did we declassify, blend away, or lose any of the wine. We made only 21 gallons of wine, from 364 lbs of grapes.
It was a tough year in the Gumans' vineyard. The vines had been declining for several years—which can be a good thing. Their lack of vigor can lead to intensity, even a welcome strangeness, in the fruit. And on top of the increasing weakness of the vines, the vineyard suffered a brutal frost early in May. Lastly, we pushed the vineyard too far in September: partly because there was so little fruit, it ripened quickly, even suddenly; and because there were so few shoots left after the frost, there was not sufficient leaf cover to protect the fruit from the brutal harvest sun. So we lost more fruit to sunburn and raisining right before harvest. John was full of faith and courage in the face of all this loss.
We sorted the fruit, crushed it with our feet in the bin it arrived in, pressed it gently over a stainless screen and put in a baby barrel for fermentation. We produced only about 21 gallons; to fill even a baby barrel, you need 30 gallons. We left it, quite typically, in this barrel with lots of head space for about a year, but then determined that the wine needed protection from oxygen. It spent the last few months of its maturation in a stainless beer keg.
This wine is remarkable. It is extraordinary even in the line of Sylphs. The fruit was super ripe, slightly botrytised, sunburnt but not roasted. The fruit was so concentrated in every way that the wine is more rich than any Chardonnay we have yet produced. It is right now less subtle than the Sylphs usually are—much more like an even more suave yet extroverted version of the Choêphoroi. For all its richness, the acidity is very high; the minerality is almost shocking. There is no butter, no caramel, no hazelnuts— none of the characteristics one would expect from very ripe Chardonnay. Once again, the sharp nobility of the vineyard has trumped the variety growing in it; the winemaking treated the fruit with the respect you accord a warrior. No soft cushions, lots of fresh air.
8.8 cs bottled