2008 Riquewihr
Lost Slough Vineyard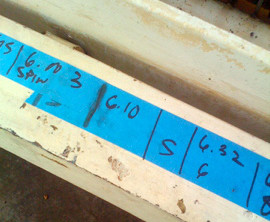 The 2007 Riquewihr was the star of the vintage. We knew that we could not duplicate that special, and unforeseen, 25 gallon beer-keg fermentation—but we could not resist trying to make more wine, even if only somewhat like it. It did not seem possible that wine of that quality could come from fruit that was an utter aberration- even if it ir represented the peak of what the vineyard had to offer, the baseline could not be far below. And we thought that we grasped whatever was good about the winemaking. So when Chuck Harrison said that he had 4 to 5 tons for us, we were very happy.
The wine was fermented in 350 gallon stainless steel tanks, remained on its lees without disturbance, and was sulfured constantly in a fruitless effort to prevent malolactic fermentation. Another case of the wine doing what it wants, no matter what we determine for it. We protected it from oxidation, but even with the extended lees contact, it remained fresh and perhaps too fruity. It is powerful with a kind of oily minerality, an utterly shocking testament to the capacity of this vineyard.
About 300 cases produced.