2008 Gemella
Lost Slough Vineyard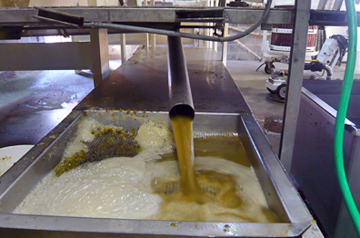 This wine will not be bottled. It was destroyed in early summer by Graeme and Johanna because it was a miserable disaster, lost through a nearly innocent lack of attention.
As always, we separated juice for gemella from the very lightly pressed juice for naucratis by taste. Robert Dentice was in charge of making the press cuts; he sat for hours by press pan at WVW, tasting, as we processed 4 separate deliveries of the Verdelho from Lost Slough, till quite late in the morning.
His cuts were rigorous; usually we would find that we were saving about 100 gals/ton for naucratis, 40 for gemella, and the rest down the drain. Robert was making the cut just above 90, directing about 35 to gemella, and discarding the rest. The naucratis went to a chilled, sealed tank in another part of the winery. The juice for gemella went into a normal blending tank, without an option for refrigeration. This seemed like no concern, since all that we planned to do was to let the juice settle 36 hours and then put into barrels for fermentation in the cold room at Tenbrink.
We went home late, after 1 am, returned the next morning, maybe around 10 am, to check on things, and found the gemella tank had overflowed, fermented all night, gone from about 28 brix to 10, and then stopped, stinking of yeast that had died an anxious death.
What had happened? By the end of the day, the verdelho was coming in above 90 degrees F. The juice that we were putting into the gemella tank was at least this hot, by the time we had made the last addition. The air temperature was above 90 also; the complete volume of juice in the tank was surely close to 90 by the time that we left. At that temperature, the fermentation began immediately, raged all night, rose above 100 degrees F, cooked the yeast, and ground to a stinking halt by the time that we returned to the winery.
We barreled down the wine anyway, hoping for the best—many wines have already confounded our attempts to destroy them. But this wine never recovered and only got worse, developing one new problem after another on its road to immolation. A sad mistake, never to be forgotten.