2008 Gardens of Babylon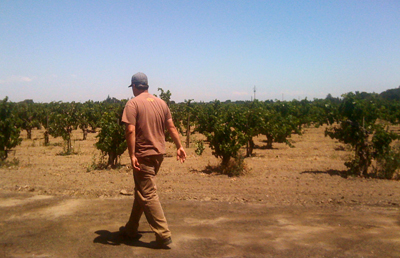 This wine is a monster. I nearly banished it from a tasting in Colorado. It is perhaps our very richest and most extracted wine ever—thought it is not our most complex. It is somewhat limited in its conversation—or perhaps I should have said that it used to be. Originally, the wine was based on the 2008 Babylon and shares its tannic power.
Satisfied with the power, but not the complexity, we realigned wines in the cellar, moved barrels around, and finally came up with the following blend. One or two of the wines were good enough to have become bottlings on their own, others were by necessity components of something larger and more complex. The whole is certainly better than any one of them was on its own.
These are the components
2008 BABYLON: About 55% of the blend, all tank fermented.
2008 RME MERLOT: from a remarkable volcanic vineyard west of the town of Sonoma. Too much of a brute to stand on its own. 17%
2008 PATO VINEYARDS FRP: 100% whole cluster, puncheon-fermented old vine Mataro from Oakley, an excellent wild foil to the Merlot. We missed its peak; if we had caught it, FRP would have made a wonderful wine. 11%
2008 PHILLIPS FARMS LAMBY: 100% Cinsault that we crushed, bled, and punched down 3-times a day in a refrigerated stainless tank. We were hoping to make a base wine for Lambrusco; but the wine never achieved a sufficient funky complexity or independent structure. A beautiful soft and fragrant element; 11%
2008 HUDSON SYRAH: a tiny bit did not make the Androkteinos blend. About 3% of the whole
2008 VANDERKOUS SANGIO: nearly a remarkable wine from an incomparable hillside vineyard in Martinez. For once, the bung left off after a tasting led to disaster. The wine lost its singular beauty—but retained its exotic interest. Also 3%
427 cases produced