2007 The Prince in his Caves
Farina Vineyard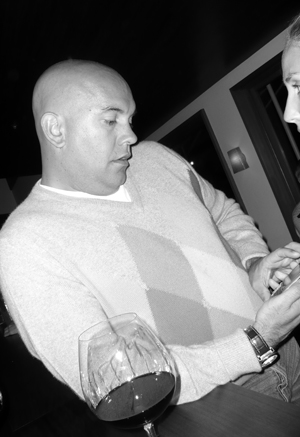 Tenbrink has two beautiful 7-ton wooden fermenters. We bought them to make red wine; for the previous five years of their lives, they had fermented cabernet. It seemed like a beautiful opportunity to make the Prince in wood from the beginning, instead of in stainless steel as we had in 2006. We had a small worry that cabernet pigment would leach out of the oak into the wine and color it, but in the end, we were swayed by two considerations. Christopher and Sarah brought back word from Sancerre that producers there used barrels interchangeably for Pinot Noir and Sauvignon Blanc, with just a standard wash in between—and no staining of the white wine. And, second, after all, it's the Prince. It can take it.
So we crushed and destemmed the opulently ripe Farina grapes directly into one of our oak fermenters, chilled it, and punched down and pumped over the fermentation for about 3 weeks—a nice slow fermentation for this wine. We drained the wine, pressed almost not at all, put the wine in barrel for aging, and one year later, Graeme and I made our barrel selections. We chose only the new oak barrels and declassified the remaining wine.
This wine is cloudy in a way that we have not seen before. It was bottled unfiltered and unfined, but so was the 2006. It throws some sediment in bottle, but most of the turbidity is rather permanent. We suspect some kind of protein that formed when we racked the different barrels together. It is as if we made the wine as challenging as possible fo rthe new drinker.
About 200 cases produced