2007 La Severità di Bruto
Farina Vineyard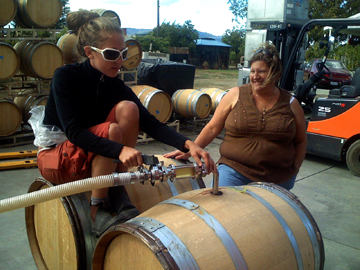 The 2007 LSB was especially promising right from the beginning—even before harvest. The fruit was even smaller and more intense than in 2005, though perhaps richer with less sharp acid. Pressing went very well; much better than in 2006. This year we used the beautiful old Willmes half-ton bladder presses at Tenbrink, where we have learned to run two presses at once.
For reasons that are utterly unclear to us, the fermentations of all of the whole-cluster press wine from Farina stuck in 07. The Prince went dry quickly, but the LSB and Camilla stuck hard in December of 07 and did not even restart spontaneously in the following summer or fall—as almost all of our stuck wines do. But for some reason, they both started again after harvest, ticked through the winter (the second winters for each wine), and went dry days in advance of their spring bottling in March of 2009.
About 80 cases produced.