2005 Nereides
Guman vineyard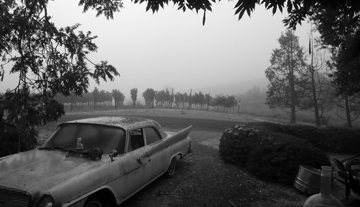 The wines made from the 2005 harvest at Guman were nearly lost. It was a difficult year in the vineyard for John Guman in the first place: something went wrong with his anti-mildew program, and the vineyard was overrun with powdery mildew very early. He dropped nearly two thirds of the crop to get the diseased fruit out of the vineyard, but the attack was so severe that it weakened the plants and made it difficult to ripen the remaining fruit. We finally harvested about two weeks later than usual, with severe selection in the vineyard and sorting in the winery. The fruit that we made wine from was clean, but not as beautiful as what we had harvested in 2002—the last year that we had brought in fruit from this vineyard.
So it was perhaps with some prejudice that I monitored the developing wine. But late 2006, I had nearly given up on it: I thought that the wine was too briny, had to much acetic acid, not enough complexity or body. The first two were due to inattentive or misguided winemaking; the second to fruit quality.
I tasted the wines before consigning them to oblivion with my friend Jamie Leigh, who is very fond of wine, knowledgable, and utterly frank. I did not reveal to her my doubts, but simply drew samples from the four 30-gallon barrels of wine. She said that she loved it, wanted to buy a lot of it, and that it tasted like Scoth—maybe Lagavullin. I immediately saw the wine through another lens and recognized the rightness of her judgment. The wine was saved! I soon transferred it to two 60-gallon barrels, to limit the evaporation and oxidation of the wines, topped with wine from a keg, and sulfured—to prevent increasing volatile acidity formation.
I named the wine "Nereides" and not "Sylphs" since it seemed so different in character from the 2002 wine. Nereides are sea nymphs; the name testifies to the briny, iodiny character of the wine. As I write this, it is nearly two years since bottling, and the wine is just beginning to shed its hard-shelled fierceness and reveal the soft complexity beneath. A wonder.
About 75 cases produced.