2005 Cena Trimalchionis
Farina Vineyard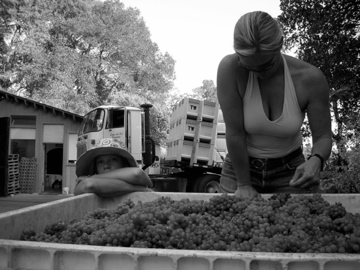 This wine has done more to define the project's character than any other.
Here are its origins
Spurred strongly by Andy Erickson, I finally agreed to take some SB farmed by Joe Votek, who is the master of hillside farming in Sonoma, and with whom I had been working at Luna since 2003. I took the fruit without ever having seen the vineyard—I had resisted for months both Joe's and Andy's encouragement to visit the vineyard. Finally, one day in September, Andy called me and said—"my fruit from farina is coming in and it's FANTASTIC. You HAVE to get some." Andy is low-key and not inclined toward exaggeration. I called Joe.
Fruit from the upper section of the vineyard came in first and was whole-cluster pressed and became 2005 LSB. For the next few days, the winemakers expecting fruit from the richer and more late-ripening sections of the vineyard waited. Then some fruit came into White Rock—by coincidene, not for me, but for another client of Joe's. Almost every cluster was stained witha little round strike of botrytis. I called Joe and made the following proposal: "Harvest all of the botrytised fruit from all over the vineyard. I will take all of it. Any clean fruit from my section can go to your other clients."
We crushed and destemmed the grapes to tank to maximize the expression of the botryits. We allowed the must to macertate for 48 hours, pressed lightly, and put the juice in mostly new oak. The fermentation was sudden and hot; we had wine that we could taste within a couple of weeks. Right from the beginning, this was not just the craziest wine in the cellar, but the most powerful. Its aromas dominated the whole harvest.
This wine will not be repeated. Not if Joe Votek can help it.
42 cases produced.