2004 Scythia
Donati Vineyards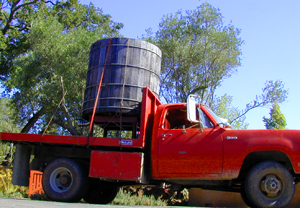 This wine was rescued from a vineyard about to be condemned for its unfashionability.
The vines were perched precariously on the crest of rolling hills 40 miles inland from Monterey–in the heart of old Almaden country. The perch was precarious because the hill's crest was composed only of sand, from some lost sea-bottom. The vines were meticulously cared for, but struggled in the wind, and in the hopelessly fine drainage of sandy hill-crest. I secured the last harvest; the grapes were trucked to Napa by a local tomato grower. The wine was dark and almost syrupy from the beginning. It lacks the off-putting fierceness of the Scheria, but it would be a gross insult to call it friendly.
Instead it is full of intense dark fruit—reminiscent more of panforte or christmas cake than jam; and not far from roast goose. It is, like Babylon and Scheria, beyond the paths and borders of our usual neighborhoods, but somewhat more familiar.
The winter after its harvest the vines were decapitated and grafted over to Pinot Grigio; a grape that could offer the farmers a little more security on their sandy hill-crest. The wine that could be made from this special plot would be remarkable; now it will be hard to find.
Scythia is the land of nomadic barbarians; the Greeks and Romans longed to dominate it because of its fertility, beauty, and mineral wealth—but it was impossible for them to conquer because the Scythians would never hold still.
116 cases produced.