2004 Scheria
Hudson Vineyards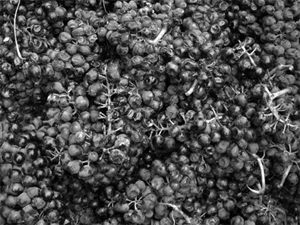 Scheria–an island far from the homes of other peoples. Its crushing coastline nearly meant the end and, then, the rebirth of Odysseus. It signifies here a wine that endured oblivion in barrel, that was deemed dead and gone, but that lay entire within itself until it arose after its 24 month in barrel.
"like some lion of the wilderness, beaten by wind and rain, who goes out, sure in his strength, his two eyes burning with fire." Homer, Odyssey VI.130-132.
The first incarnation of this wine was produced over the course of three years following its harvest in 2002. The 2002 was strong, nearly fierce from the beginning; the 2003 from the same vineyard differed so strongly from its predecessor that I had to give it another name. I thought at this point that the 2002 was some kind of unique and magical incarnation of this wine, or that it must come to the point of crushing death before its strength and nobility is revealed–but not always.
The 2004 began meekly enough. It was so soft and fruity at the end of fermentation that I despised it. I thought that the wine was barely worth putting in barrel. Over the next few months, I tolerated its presence in the cellar. If I offered it to guests to taste, it was as a kind straw man, or whipping boy–introduced only to beat up on it, perhaps to make other wines, from less prestigious origins, look better.
As usual, the wine has not been racked, blended, topped, or sulfured. In the spring of 2005 it took a welcome change. It hit adolescence and outgrew its role as whipping boy. By the beginning of harvest, the wine was dark, serious, smoky. Now, three months later, it has clearly revealed itself as another Scheria: squid ink purple in color, roast game and spent cartridge in the nose, piercing with a gravelly minerality and a beam of tannins in the mouth. It will be bottled without death or rebirth, but having outgrown a miserable youth.
46 cases produced.
[Written in 2005]