2004 Glos
McDowell Vineyard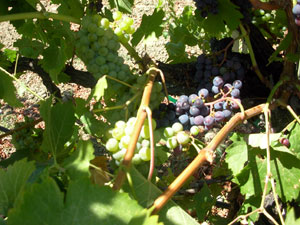 Glos–a fragment of a word, from the Greek glossa, the word itself for "word, language, tongue." It also names the location of this wine's unlikely vineyard, Glos Lane in Rutherford, in the hot center of Napa Valley.
In the sixties, the McDowell family planted their new valley-floor vineyard to sauvignon blanc and chardonnay. But they planted on rootstocks doomed to die at the hands of phylloxera. By the the 1990's, they had decided to replant the dying vineyard to merlot, on new, resistant rootstocks. But somehow, some of the oldest, stoutest vines had not succumbed. The McDowells could not bear tearing them out–so they planted young merlot vines all around the few surviving old vines, and determined to graft merlot onto the survivors' arms.
Yet once again, a few of the white grapes survived the inevitable march toward Rutherford red. The grafting was not complete, and now, as one walks through the vineyard, random bright green clusters dangle under the foliage of the great old vines, surrounded by the purple clusters of the merlot. One harvests the vineyard cluster–by–cluster, vine–by–vine as if on an easter-egg hunt. The whole vineyard yielded barely half of a ton.
The old vines ripen the grapes very early, before the Rutherford heat takes its toll. The grapes maintain fine, even sharp acidity, and a minerality due to the wide, deep reach of the forty-year old vines. The winemaking has focused on exalting this minerality: the single barrel was kept well topped, with no stirring, and malolactic fermentation was arrested with sulfur dioxide. The wine was bottled in its ninth month.
18 cases produced.