2003 Iseult
Hudson Vineyards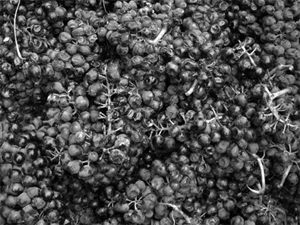 Iseult: the Celtic princess tied to philtres and charms. The wine named for her is fine, arch, delicately pagan and medieval in texture.
The grapes were harvested from a particularly cool, lowland slip of Lee Hudson's Henry Road vineyard on the day after Hallowe'en–late even for this cool vineyard. The clusters of delicate grapes hung from their vines until they exhibited the aroma of Smithfield ham. The grapes were placed whole, uncrushed, in a small open-top container and allowed to sit in the cool of the November cellar until yeasts and microbes began to clot the surface of the must.
A few days later, the fermenting yeasts triumphed in the competition for the grapes' sugar, and fermentation began. The grapes turned to wine slowly and with infrequent disturbance–punched down only now and then. Skins, seeds and wine passed the solstice and the holidays together: the wine was pressed only on the first day of the New Year.
Its delicate nature demands a very different treatment from its older sibling from the same vineyard, the 2002 Scheria. It has been kept in topped barrels, with a little sulfur. It was bottled after 18 months in barrel. Its lines are fresh, clear, elegant.
42 cases produced.
[Written in 2005.]