2002 Sylphs
Guman Vineyard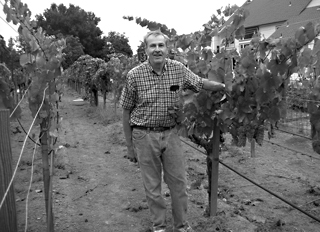 The Sylphs: airborne spirits, strong and graceful–but their power is not subject to Cartesian control, and so remains mysterious and mischievous to us.
This wine hails from a remarkable vineyard east of the town of Napa, hard up against the feet of Mt. George. Nathan Fay planted the vineyard in the 1970s for his his friends from church, John and Fay Guman. He planted the tiny one-acre plot with old California chardonnay selections: small berried, infertile, thick skinned, and muscat-y in aroma. John has tended every vine from its youth,with his own hands, year by year, shoot by shoot. The vines are old and stout and very deeply rooted in the strange, moon dust soil characteristic of this ancient alluvium. But the vines are not vigorous. John and Fay go out for dinner if they get two and half tons per acre.
The essential character of the vineyard–a tannic intensity uncommon for chardonnay– is compounded in this vintage by the remarkable nature of the fermentation. The wine went to barrel in September of 2002–and was bottled only in May of 2005–thirty-three months later!
The yeasts seemed to have gone to sleep early in their work; and then began sleep walking after that. They did not stop working, but fermented slowly, very slowly, without interruption. Open the bung-hole, press your ear to the gaping hole (the barrels went un-topped during their full fermentations), and you hear the yeast: pop, pop, pop. For nearly three years. The fermentation did not complete until New Year's 2005.
This constant fermentation protected the wine through its lengthy sojourn in barrel. It represented a tremendous risk not to intervene, but the yeasts work on their schedule, not mine.
98 cases produced.
[Written in 2005.]