2002 Proserpina
Maldonado Los Olivos Vineyard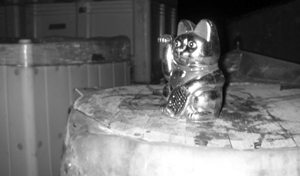 Proserpina—who went down to the underworld a maiden, and returned to the light a bride, reborn, and from then on, eternally young.
This wine is a ripasso of Cabernet, harvested very late in 2002 and slightly passito, over syrah skins from the presumptive 2005 Iseult. The Cabernet is from young vines planted in the easternmost corner of the Maldonado Los Olivos vineyard in the cool reaches of Jamieson Canyon. We made wine from the fruit in 2002 and then the Maldonado family decided that the land could be put to better use. They grafted it to white fruit.
This wine was one of our first and most radical experiments. The 2002 wine was very good, elegant, expressive—but it was quite high in acid and slightly unripe. It betrayed its cool-climate origins. I had the idea of passing it over the very ripe and potent skins of the 2005 Hudson Syrah (and also some of the stems, from the whole cluster fermentation).
The idea was to produce some of the rich, nearly bitter, pungency of Amarone; not erasing the green character of the Cabernet, but elevating and transforming it. So while the Hudson was just about to finish fermenting, we captured about a half-ton's worth of skins and stems and racked the Cabernet over them, in a one-ton open fermenter.
We added some sugar to make sure that the ripasso was not just a soaking, but a transformation and melding through microbial action. It never occurred to me that this crazy fermenation might stick. It did not: the wine went dry by Christmas. It also did not occur to me that there would be malolactic fermentation to complete, or that there might be any number of microbial instabilities introduced by this strange marriage. So I bottled the wine in the spring, innocently and without worry.
The wine was excellent for several months. The French Laundry bought and served it. But the bottles that I was opening in order to monitor the wine were not encouraging. The wine seemed strange rather than interesting. And there was life in it; lots of life. I stopped selling it, worried that if stored in a warm environment, it would become a sparkling wine.
That was in the spring of 2006. Now, in the summer of 2009, the wine has not only acheived stability, but depth and real interest. It is time to start drinking the wine again. Proserpina has returned.
61 cases bottled.