2001 St. Harry's Chapel Syrah
St. Harry's Chapel Vineyard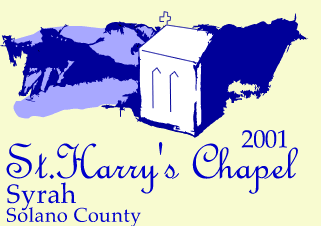 This wine bears another label, though it is an element of the Scholium Project. The Project made the wine from 2001 through 2003 in collaboration with Harry Misthos, the owner of the St. Harry's Chapel Vineyard, and the builder of St. Harry's Chapel itself.
The grapes from this two-acre vineyard in Solano County, a couple of miles southeast of the Napa county line, had gone to a large buyer for bulk blending. Harry had wanted to see what his grapes could do on their own. We thinned the crop by half, harvested only when the grapes had dimpled thoroughly, and blended in a little Petite Sirah and fancy Hudson Syrah to bring some darkness to what seemed rather faint, strawberry colored juice.
Our blending was misguided. Ampelographic studies revealed that the vines labeled "Syrah" by the nursery that sold them were in fact Grenache, and so the strawberry colored juice at crushing was perfectly appropriate. The wine in fact developed strength and intensity, with a piercing pepperiness characteristic of Grenache. In barrel and bottle, the wine has developed an additional wildness much more typical of the southern Rhône than anywhere near Napa.
The wines from the next two vintages did not measure up to the remarkable quality established by the first. We destroyed the wine. The vineyard in the long run proved a mystery; Harry sold it, and this vintage may be our only release.
We retain the hope that some wine, some vineyard in the future will remind us of the remarkable quality of the 2001 St. Harry's, or of the remarkable spirit of Harry, who planted the vineyard for his wife and knew that every vineyard should have a chapel in it. Only when we are thus reminded will we release another St. Harry's Chapel.
320 cases produced.
[Written in 2005.]