Now we are a team
In 2007, I learned that I could not work alone.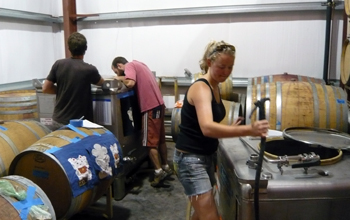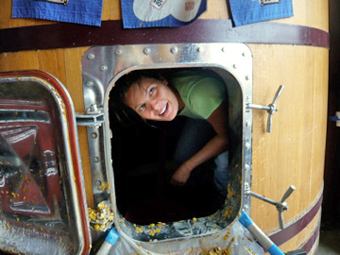 Carrie Sumner had been a priceless partner during harvest, but with the advent of winter, work diminished in the winery and it became time for her to return to her own life.
I had increased production very much during 2006 and sustained it in 2007. The winery had grown beyond a one man operation—and not just in winemaking. I needed to spend more time introducing and supporting the wines in New York, Los Angeles, Florida, Boston. And I had two years' worth of paperwork crammed into cardboard boxes. A thousand case winery with no books. We had Newton and Aeschylus, but no Profit and Loss Statement.
In late winter, I turned to a new friend, Kelly Macleod, to help me with paperwork and odd tasks around the winery. In the Spring, I recruited a friend of hers and Alex Kongsgaard's to help prepare for bottling: Graeme Macdonald. Graeme had a degree in Viticulture and Enology, and even more—several seasons' experience working in wineries. And he was hungry for what we were doing. He respected the wines and loved our fearless attitude of learning. He grasps everything in the winery, tirelessly cares for every moment in the life of every wine, and now acts as a teacher himself for our interns and visitors.
He was the first Scholium employee with any previous experience, and his advent changed everything. The next step forward came gradually: when Kelly got a much more serious opportunity to work for Hudson Vineyards, I asked another friend, Johanna Jensen, to help pick up Kelly's various forms of assistance. Her first task was to glue back together a shattered lucky cat. Her acumen is so sharp and her ability so limitless that she now helps to run the Project in every way as Director of Operations.
The Project is now a team, equally dependent upon each member for its continued survival and future development.