The first years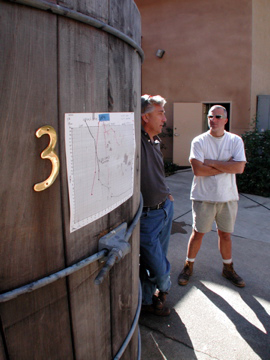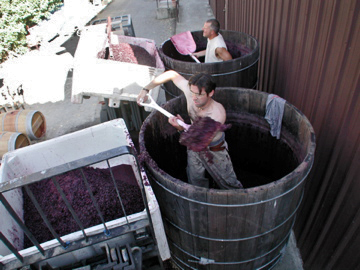 I made sangiovese at Luna in 1999, while working in the cellar under John. I was surrounded by wonderful colleagues who were unstinting in education and encouragement. John ran the cellar efficiently, but over all as a College. We got work done, but were encouraged to ask questions constantly, on any subject. At lunch and dinner and late at night we tasted wines, often blind. We talked about sulfur, we talked about yeasts, we talked about music, We talked about a hundred things I had never heard of.
I asked John if he would accept me for a second internship in 2000, and he agreed. I worked part-time in the cellar and full-time at an internet startup in the city. My colleague Michael and I did as much work "remotely" as we could—from the cellar at Luna. John introduced me to an old friend and colleague of his, Lupe Maldonado. Under John's guidance, I purchased 3 tons of chardonnay from Lupe. and made my first wine— with the intention to sell it. I benefited from the help and advice of many friends and colleagues during this time—especially Kelly Wheat, the assistant winemaker at Luna.
I made wine at Luna until 2003, when I was invited to a beautiful family winery, Whiterock Vineyards; a home that offered the perfect alternation of solitude and collegiality.